We've been hard at work for the last month on some big updates. Today we'd like to tell you about them!
Jellyswitch fits your business like a glove
This is what guides our product development to our core:  How great technology augments your coworking business and helps you get leverage on your time.
Member onboarding, vastly streamlined
A great member experience starts with fast and easy onboarding. Purchasing day passes and memberships just got a whole lot faster and simpler. You can now completely customize what's included in each day pass, with a beautiful photo if you'd like!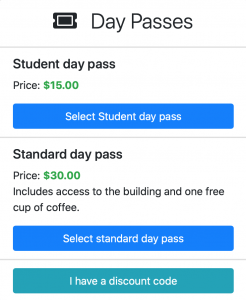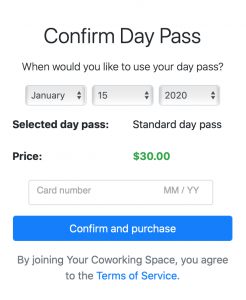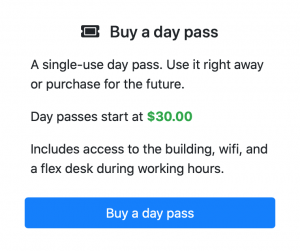 Other improvements to member onboarding:
One-tap membership invitation to onboard new members with a new password
For multi-location coworking businesses, your members can now select amongst your locations in a simpler, more beautiful way
Optionally collect your member's phone number upon registration
Integrated Events help you build relationships earlier
Events are the top driver of new recurring memberships to your coworking spaces.
We've shipped a big new design for events. Your events look beautiful when shared on your Facebook or Twitter accounts, and they even look great when shared in Slack. You can see how many times people have viewed the event and your members can RSVP to events via their apps or the web.
You can even collect email addresses when someone RSVPs before they've created an account. This allows you to begin your relationship with them before they become a member at your space.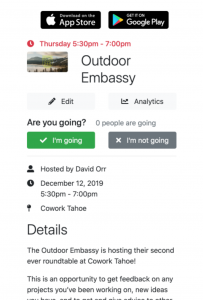 And of course, your members can browse what's going on at your space whenever they'd like.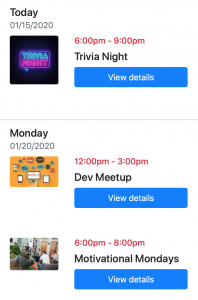 Smarter room reservations make you more money
This is a big one. We've rolled out a (beta) credit system that allows your members to earn credits as part of their membership plans and spend those credits on room reservations.
Early feedback is very positive, so you should expect this in your app as an optional module very soon!
We've also added support for longer reservations and, as always, you can rent out your rooms at an hourly rate if you so desire!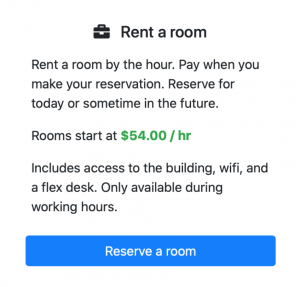 We've also added a "Today's Reservations" screen so you can easily see who's utilizing your rooms the most.
Your app, fully customized
Now you can enable and disable Jellyswitch features right from your pocket.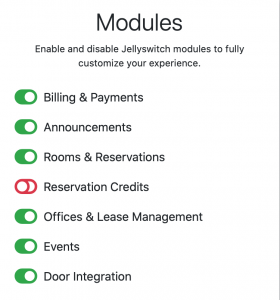 You can also customize which notifications and feed items show up for your staff: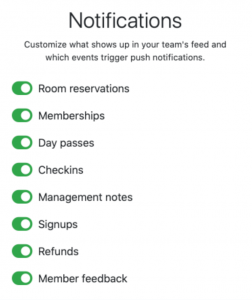 You can also quickly and easily customize the following:
Whether checking in is required on a per-location basis
Whether hourly checkin is supported on a per-location basis
Whether new members require approval
Billing & Payments are now more flexible than ever
You, our customers, tell us you want more flexibility. We're listening!
Membership start dates allow your members to begin their membership in the future
Pending memberships let your members activate their membership at their leisure
Support for memberships on a weekly, monthly, quarterly, biannaul, or annual basis
Membership plans are now customizable on a per-location basis or across all locations, so you can offer both a part-time membership at one location as well as, for example, an "All-Access Pass"
New upgrade/downgrade feature so members can be pro-rated or cancelled outright with one tap
Updating a member or group's payment method is now a lot more intuitive
Commitment levels let you offer a discount to your members if they sign up for a longer-term commitment (3-months, for example)
We'll continue to improve the power and flexibility of the billing system. Please keep the feedback coming!
Miscellaneous Updates
Here are some other items we've shipped:
Your android apps have much clearer navigation menus for you and your members
Your member's dashboard now has quick actions to view their invoices, manage their membership, and more
If enabled, your building access log shows who opened the door, when, and the data that was sent to your access provider (and their response)
All emails to your members now have your app badges in the footer
A new and improved groups UI to manage group membership, navigate to and from member and group profiles, view group history, and more
A new LTV (Lifetime Value) screen shows you how much a member or group has paid you over the lifetime of their relationship with you
Refunds are now included in your management feed
Upgrade your member experience today
Visit our website or get in touch today and get your own branded mobile app to make your member experience world-class.
For the love of coworking,
The Jellyswitch Team