Companies that don't recognize this movement and leverage it are at a severe disadvantage. Imagine the ability to (inexpensively) hire engineers, designers, marketing managers, and more that don't live and breathe the SF / NYC lifestyle. Video conferencing is ubiquitous, and working across time zones is now easy.
I work in a coworking space every day full of Bay Area refugees — this movement is real and easy to witness every day.
And, it turns out that working from home doesn't cut it for the vast majority of this distributed workforce.
People want to interact with others. We want to have lunch with friendly, familiar faces. Sometimes it's about bouncing ideas off one another, sometimes it's about socializing, and sometimes it's about building a network of like-minded individuals. It's quite difficult to do so from home.
Unplugging from work when you're at home is not easy when you work from home. Having a dedicated desk with your work in a different environment than where you live is a good thing.
One of the consequences of this new distributed work movement is the explosive growth in coworking. There are over 18,000 coworking spaces worldwide today, and an incredible 6,500 new spaces will open in the next 24 months. If you project just two more years out, there will be more coworking spaces in the world than Starbucks.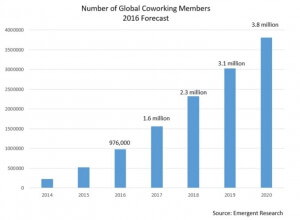 Coworking spaces offer a dedicated desk, a community of like-minded individuals to work and socialize with, fast internet, good coffee, and everything else you need from a productive office environment. Many of them are fun, exciting spaces that are a joy to work from.
If you're a member of the distributed workforce, you owe it to yourself to find your local coworking space and give it a try. Odds are you'll be happier and more productive.
https://www.jellyswitch.com/wp-content/uploads/2019/12/jellyswitch-blog-the-incredible-growth-of-coworking.jpg
1080
1920
Jamie Orr
https://www.jellyswitch.com/wp-content/uploads/2019/11/logo-300x90.png
Jamie Orr
2019-03-12 06:28:18
2019-12-16 17:26:41
The incredible growth of coworking